Winners of the WeddingSutra Photography Awards 2019 in association with Panasonic Lumix S1R were announced at the glittering Awards Gala held at Taj Lands End, Mumbai. Over 13 thousand images were entered in the competition and after exhaustive work by our jury that included Jose Villa, Prasad Naik, Tarun Tahiliani, Cristiano Ostinellii, Riccardo Fasoli, Anne Aselmann, Martin Kacvinský, Eliska Judova, Marek Bouska, and Sarah Falugo, a total of 172 talented nominees made it to the final shortlist.
"WeddingSutra Photography Awards is a natural extension of our vision to inspire and honor the best in wedding photography and filmmaking and we now look forward to ensuring that wedding photography in India has a strong global platform and is recognised as an exciting and creative profession," says Parthip Thyagarajan, CEO WeddingSutra.com.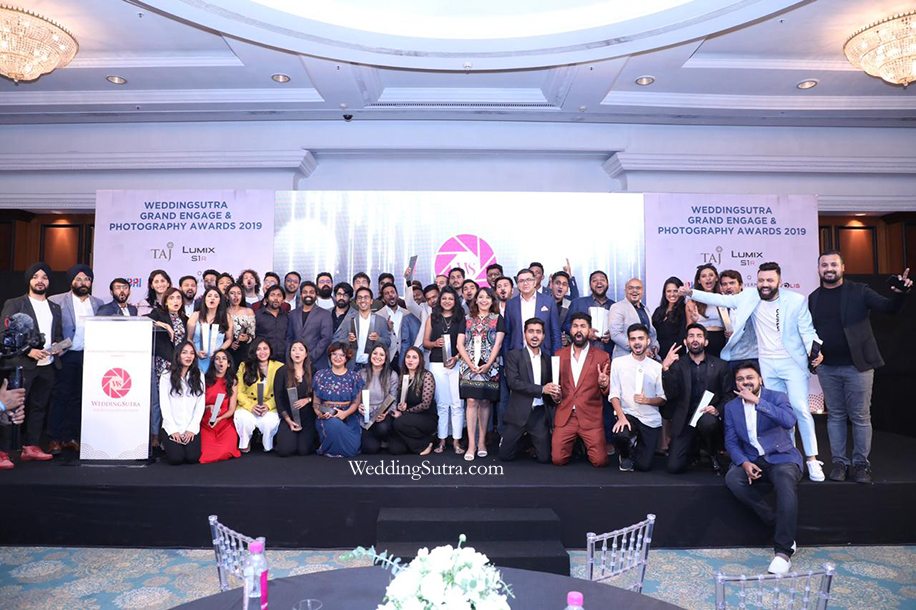 The event also featured a Panasonic Experience Zone that introduced every wedding photographer present to the latest full frame mirrorless Lumix S1R Series. Gaurav Ghavri, Product Marketing Head, Lumix cameras, Panasonic India took guests through the features of the camera series via an informative talk on the product capabilities with support from Pansonic mentors and wedding photographers Jayant Chhhabra of Cupcake Productions and Parikshit Suri of PK Suri Worldwide Studios.
The Lumix S1R features a 47.3-megapixel full-frame CMOS sensor that has a native ISO range from 100-25,600 and offers 4K video recording at up to 60fps, slow motion video at up to 180fps, 6K and 4K photo with 5-axis dual image stabilisation and genius ergonomics. This is the mirrorless camera wedding photographers will love.
Wedding Filmmaker Of The Year
Winner: House On The Clouds
Runner up: DotDusk Studios
Runner up: Dsilva Films
Runner up: Sam & Ekta
Runner up: Vows and Tales
Wedding Photographer Of The Year
Winner: Ombre by Harsheen Jammu
Runner up: Cupcake Productions
Runner up: Made In Mono
Runner up: Naman Verma Photography
Runner up: Tuhina Chopra Photoworks
Pre Wedding Films
Winner: House On The Clouds
Runner up: Kameron Studios
Runner up: North Water Star
Runner up: Reflexion by Nishchay Shinde
Runner up: Sunny Dhiman Photography
Friends and Family
Winner: Nikhil Shastri
Runner up: Mahima Bhatia Photography
Runner up: My Visual Artistry
Runner up: Picsurely
Runner up: Weddingrams
Pre Wedding Photography
Winner: We don't say cheese
Runner up: Anoop Padalkar
Runner up: Busy Bee Studio
Runner up: Vipin Photography
Runner up: Dream Knot
Wedding Details
Winner: Ombre by Harsheen Jammu
Runner up: Framed by RG
Runner up: Mohamed Jameer
Runner up: Shivali Chopra
Runner up: Tuhina Chopra Photoworks
Wow Destination
Winner: House On The Clouds
Runner up: Naman Verma Photography
Runner up: Ramit Batra
Reels and Frames
Runner up: WhatKnot
Bride and Groom
Winner: Naman Verma Photography
Runner up: Kodoclicker
Runner up: Raj RJ
Runner up: Story Weavers
Runner up: The Wedding Salad
Editorial Wedding Photography
Winner: Cupcake Productions
Runner up: Arjun Kamath
Runner up: Oragraphy
Runner up: Shreya Sen Photography
Runner up: Shutterdown
Wedding Ceremony
Winner: WeddingNama
Runner up: Reels and Frames
Runner up: Sephi Bergerson
Runner up: Shutterink
Runner up: Sid Wedding Photos
Getting Ready
Winner: House On The Clouds
Runner up: Oscar Varghese
Runner up: Reels and Frames
Runner up: Robin Saini
Runner up: The Wedding Salad
Album Design
Winner: Infinite Memories
Runner up: Aashish Taj Photography
Runner up: Going Bananas Photography
Runner up: Kameron Studios
Runner up: Made In Mono